Storage Auction Software You'll Love
Work where you want, when you want - on web or mobile.
Stop losing money on tenants that won't pay.
Get started today by choosing your plan. No monthly membership fee.
SEE PLANS & PRICING
Free to sign up. No credit card required.
Easy photo uploads with the LockerfoxSV app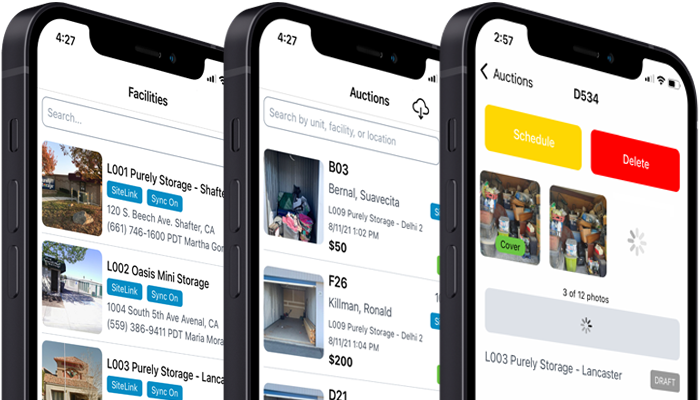 Upload photos directly to your listings
I absolutely love it! It cut so much time off the whole lock cut process!
Randi
Florida
A game-changer for uploading photos. Highly recommended!
Calvin
Georgia
New bidders sign up every day...
2/1 Brooke from Idaho
2/1 James from Oregon
2/1 Denver from Utah
1/31 Terry from Minnesota
1/31 Kurt from Pennsylvania
1/31 Katia from Texas
1/31 Fred from New Jersey
1/31 Armando from Texas
1/31 Jennifer from Georgia
1/31 Victor from Texas
1/31 John from Texas
1/31 Trequan from South Carolina
1/31 A Michelle from Georgia
1/31 Rita from Oregon
1/31 Phillip from Georgia
1/31 Jerelie from Texas
1/31 Allen from Michigan
1/31 Eric from California
Outstanding
Everything was how it was supposed to be no hidden fees or hidden rules. Which was nice. Friendly service and clean place. I will be buying more from yall. Thank you so much.
So much fun!!
I just discover online auctions and I'm obsessed. Lockerfox is so easy to use.
Great service.
Lockerfox works great! Ive never had an issue with the auction. Bids placed with no problems and fees have been minimal. Interfacing with the facilities for pickup have been amazing.
Want a personal demo? Just ask...
Benefits for all operators, large & small
Auction Sync
Make auction setup and automatic cancellation easy with our SiteLink, storEDGE, and Yardi Store™ connections.
Areas & Regions
Group your stores into regions to make administration of user access and other settings easy.
Export Your Data
Make offline analysis easy by exporting your auctions to Excel. You can even export your facility list!
20+ Event Notifications
Keep tabs on all your lien process and auction statuses with email notifications.
Easy Public Notices
Ensure consistent and compliant newspaper ads with the Lockerfox public notice generation feature.
Multi-site Reporting
Rollup your metrics by store and region to track volume and yield.
Hear one customer's story
The best online auction solution for your team
Store Managers
Reduce the amount owed on units by running monthy auctions on your own schedule.
Easily take and upload unit photos on our mobile app.
Say goodbye to the auction crowd clogging your facility on auction day.
Regional Managers
Keep tabs on your auction activity for all your stores with our dashboard pages.
Eliminate facility setup differences with Region Policies.
Work easily across time zones with no confusion.
Corporate Leadership
Operate with confidence knowing you've chosen an industry leader.
Flexible user management, create a hierarchy of area and regional managers so everyone sees their own stores.
Streamline auction operations with our management software integrations.
Management Software Integrations


Connect to operations software for easy auction management

Coordinate with our team in real-time
Lockerfox is a proven and trusted vendor